Behind The Scenes : Feng Shui-ing My Own Home Part 1
As I am in the mist of completely repainting, renovating, and bringing my newly purchased home back to life, I figured I would share some of my insights and experiences with you from beginning until completion. I really hope these posts inspire you to live in a home that truly allows your soul to flourish, do not take no for answer.
This has been a very exciting experience thus far watching how the home is slowly generating new, vibrant energy as we start the painting process. The souls of our homes can become stale and dated over time if we don't change them along with ourselves. All of the hard work pays off when you create a home that will enveloped with what you need.
In my case, brightness, love, color and vigor.
The home that my boyfriend and I purchased was once my grandparents home. I grew up here, so many memories of silliness, love, joy, and overall family bonding dance around the house. My grandmother was the best person I have ever met and I really wanted to bring the house back to life with her in mind.
The house was doused in bland colors so I started by choosing vibrant, fun, light colors for the walls. A lot of the wood is also dark in the home currently, so I will be very excited to share with you the bright colors when it is all done! Although it is a work in progress, here is what we have so far from working hard over the past week.
I also apologize for the image angles, I was moving quite quick taking pictures with the limited time I had but I will absolutely provide better ones with the full reveal!
Kitchen
Before: The kitchen was totally renovated about 7 years ago. The two toned was a mossy green and a duller beige color. It definitely created a very dark atmosphere and needed some color to liven things up!
After: To honor the fire element in this particular area of my home, I chose a summer dragonfly color which represents a wood element! Wood fuels fire so it really enhances my Fame/Success gua in the kitchen! If you notice, the bright greenish color paired with a bright "castle beige" really adds a lot of life back into the kitchen and entrance!
Living/Dining Room
The super dark mahogany wood really depletes me. I am such a light wood person. I love bright, farmhouse, log cabin style homes so I am still not sure if we will paint over the dark wood. I do LOVE white trim, but the dark wood is original and I feel like it would be a sin to paint over it...but I will keep you posted as to what we do! Prior to us painting it the walls were a natural clay color and made the room even darker which really made me feel uneasy. I took the pictures with the new color (glass tile) up against the old color to really allow you to see the difference.
*Still working on this room*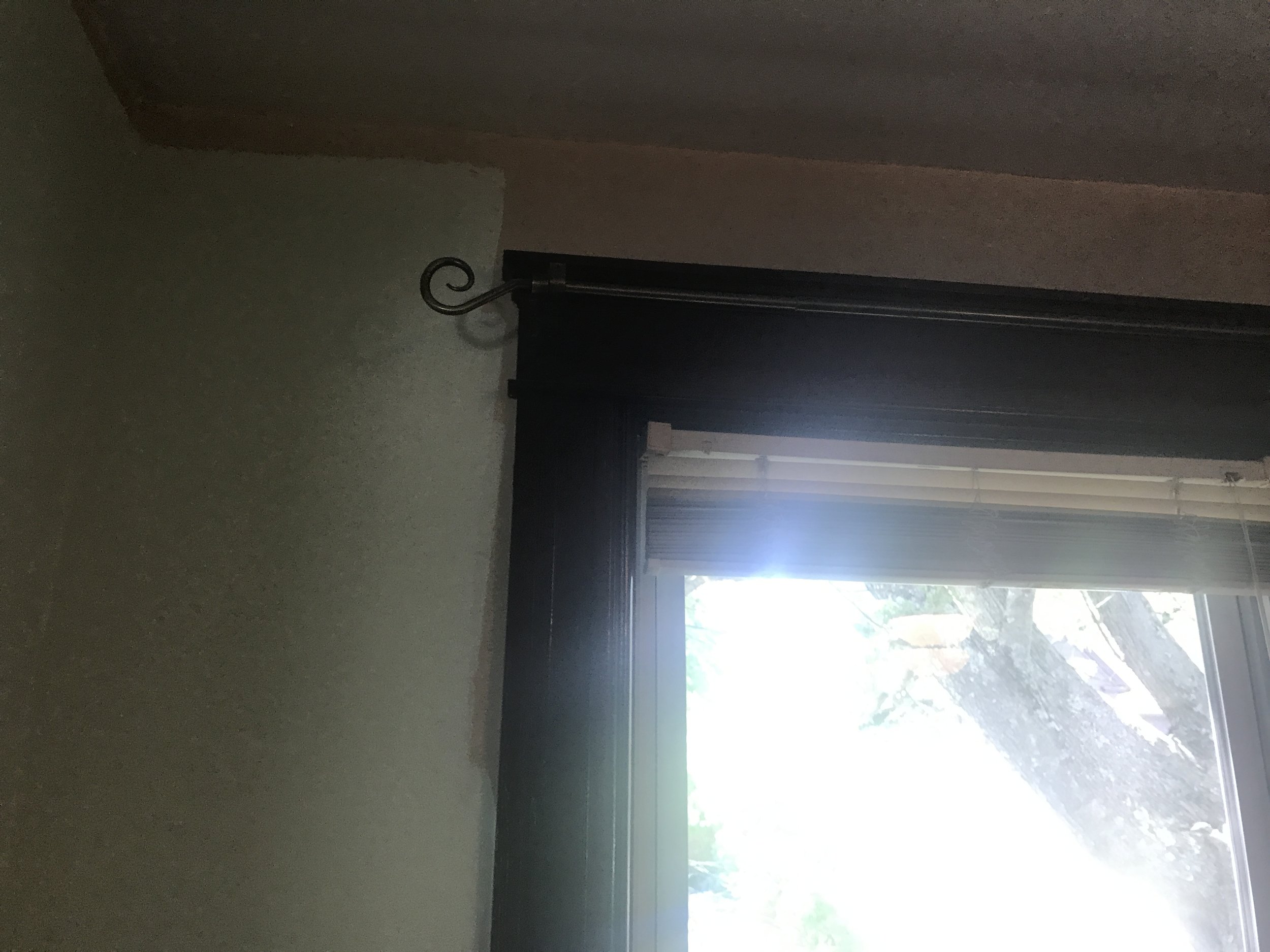 Office
Hello 70's! Wood panelling AND a drop ceiling! This is still a work in progress but the drop ceiling has been removed and the wood paneling is being primed to be painted. This room is in my wisdom/self-awareness gua and is represented by the color blue. I wanted to honor this Feng Shui gua by choosing a blue that truly inspired me since it will be my office. A office is a place of creativity, also represented by the color blue so when it is completed, my office will be painted "aspiring blue". Can't wait to share with you the reveal!
*Still working on this room*
Bathroom
Oh the bathroom... one of the rooms that has so much potentially! We are completely gutting this room and replacing the tile, vanity, toilet, mirror, lighting fixtures and shower/tub combo! Right now we are in the process of removing the wall paper to get it prepped for the demolition.
*Still working on this room*
Bedroom
This was originally my grandparents room! Again, painted a very bland color and over time the walls became very scuffed and dirty. We decided to go with the two tones with the upper wall painted a parchment white and the lower wall painted a dark sky grey! The trim will all be painted white and paired with our cute pink and white floral bedspread I believe this room is going to look AMAZING!
*Still working on this room*
I can not wait to show you more! Stay tuned next week for more behind the scenes of my home getting Feng Shui-ed! If you are interested in incorporating these concepts into your home (you do not have to repaint or renovate to bring your home back to life) please check out my Feng Shui services by clicking the button below!
May this inspire you to live in a home that makes you so happy,
Bianca